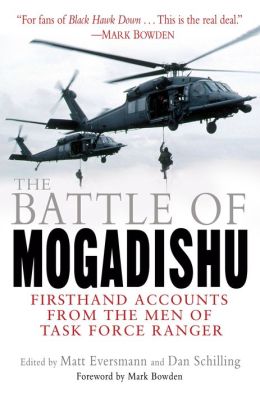 TITLE:
The Battle of Mogadishu: Firsthand Accounts From the Men of Task Force Ranger
AUTHOR:
Matt Eversmann and Dan Schilling (eds.)
STARTED:
April 1, 2015
FINISHED:
April 12, 2015
PAGES:
221
GENRE:
Non-Fiction
FIRST SENTENCE:
[From Mark Bowden's Forward] Matt Eversmann was the first serious interview I had for my book
Black Hawk Down
.
SUMMARY:
[From
BN
] It started as a mission to capture a Somali warlord. It turned into a disastrous urban firefight and death-defying rescue operation that shocked the world and rattled a great nation. Now the 1993 battle for Mogadishu, Somalia–the incident that was the basis of the book and film Black Hawk Down–is remembered by the men who fought and survived it. Six of the best in our military recall their brutal experiences and brave contributions in these never-before-published, first-person accounts.
THOUGHTS:
It's not every day that I stare at my bookcase and think, "You know what I could really go for right now? A military memoir." But that feeling did strike me, so I grabbed this out of my collection. It's not the best book in the world (military men have a very distinctive way of talking/writing), but it did hit the spot. I've always been fascinated by the Battle of Mogadishu, so it was very interesting to see the personal the stories of some of the people who lived through the incident. I was a bit bummed that the collected essays were mainly narratives and not more introspective or analytical, but it was still interesting to read.
RATING:
6/10 [Good]