I was stumped for what to write this month. Lady B came through with a great idea: Books That Should Be Read Outside. The books for this month are all items that should be read while sitting outside in a garden, on the beach, on your porch, or, really, wherever you are comfortable in the great out of doors.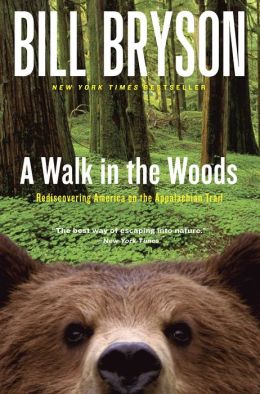 A Walk in the Woods: Rediscovering America on the Appalachian Train
Bill Bryson
Back in America after twenty years in Britain, Bill Bryson decided to reacquaint himself with his native country by walking the 2,100-mile Appalachian Trail, which stretches from Georgia to Maine. The AT offers an astonishing landscape of silent forests and sparkling lakes—and to a writer with the comic genius of Bill Bryson, it also provides endless opportunities to witness the majestic silliness of his fellow human beings. For a start there's the gloriously out-of-shape Stephen Katz, a buddy from Iowa along for the walk. Despite Katz's overwhelming desire to find cozy restaurants, he and Bryson eventually settle into their stride, and while on the trail they meet a bizarre assortment of hilarious characters. But A Walk in the Woods is more than just a laugh-out-loud hike. Bryson's acute eye is a wise witness to this beautiful but fragile trail, and as he tells its fascinating history, he makes a moving plea for the conservation of America's last great wilderness. An adventure, a comedy, and a celebration, A Walk in the Woods is destined to become a modern classic of travel literature.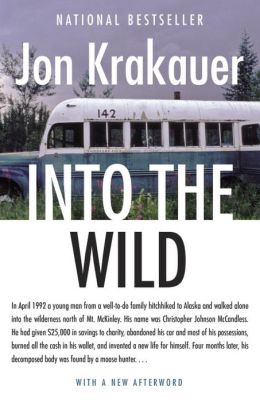 Into the Wild
Jonathan Krakauer
In April 1992 a young man from a well-to-do family hitchhiked to Alaska and walked alone into the wilderness north of Mt. McKinley. His name was Christopher Johnson McCandless. He had given $25,000 in savings to charity, abandoned his car and most of his possessions, burned all the cash in his wallet, and invented a new life for himself. Four months later, his decomposed body was found by a moose hunter. How McCandless came to die is the unforgettable story of
Into the Wild
.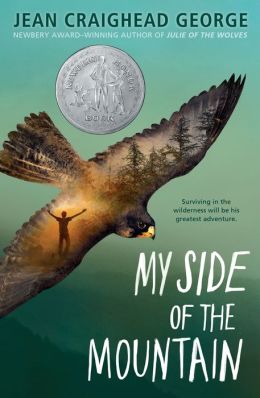 My Side of the Mountain
Jean Craighead George
Sam Gribley is terribly unhappy living in New York City with his family, so he runs away to the Catskill Mountains to live in the woods—all by himself. With only a penknife, a ball of cord, forty dollars, and some flint and steel, he intends to survive on his own. Sam learns about courage, danger, and independence during his year in the wilderness, a year that changes his life forever.
Island of the Blue Dolphins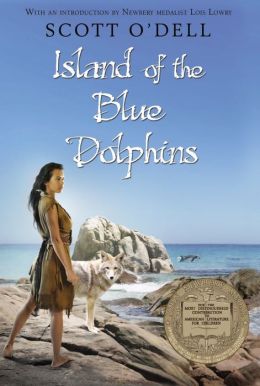 Scott O'Dell
Scott O'Dell won the Newbery Medal in 1961 for his unforgettable novel
Island of the Blue Dolphins
, based on the true story of a Nicoleño Indian girl living in solitude between 1835 and 1853 on San Nicolas Island, only seventy miles off the coast of Southern California. His quietly gripping tale of Karana's survival, strength, and courage—and vivid descriptions of island life—has captivated readers for decades. This fiftieth-anniversary paperback edition features an introduction by the two-time Newbery Medal recipient Lois Lowry. Left alone on a beautiful but isolated island off the coast of California, a young Indian girl spends eighteen years, not only merely surviving through her enormous courage and self-reliance, but also finding a measure of happiness in her solitary life.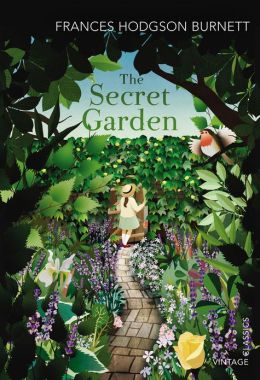 The Secret Garden
Francis Hodgson Burnett
When Mary Lennox is sent to Misselthwaite Manor to live with her uncle everybody says she is the most disagreeable-looking child ever seen. It is true, too. Mary is pale, spoiled, and quite contrary. But she is also horribly lonely. Then one day she hears about a garden in the grounds of the manor that has been kept locked and hidden for years. And when a friendly robin helps Mary find the key, she discovers the most magical place anyone could imagine.
Everyman's Rules for Scientific Living: A Novel
Carrie Tiffany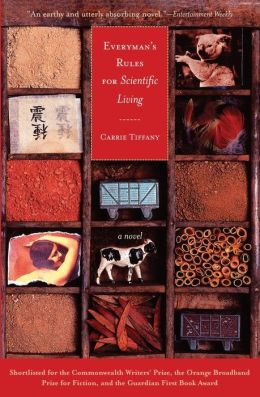 The "Better-Farming Train" slides through the wheat fields and small towns of 1930s Australia, bringing advice to farmers. Amid the swaying cars full of cows, pigs, and crops, a strange and swift seduction occurs between Jean Finnegan, a sewing instructor, and Robert Pettergree, a scientist with an unusual taste for soil. In an atmosphere of heady idealism, they settle in the impoverished Mallee farmland with the ambition of transforming the land through science. In luminous prose Tiffany writes about the challenges of farming, the character of small towns, the stark and terrifying beauty of the Australian landscape, and the fragile relationship between man, science, and nature. This is a sensual and startlingly original debut that establishes Carrie Tiffany as one of the great new voices in fiction.
Other Books to Read Outside
Collapse: How Societies Choose to Fail or Succeed
- Jared Diamond
Silent Spring
- Rachael Carson
White Fang
- Jack London
Life of Pi
- Yann Martel
Bridge to Terabithia
- Katherine Paterson
Where the Red Fern Grows
- Wilson Rawls
Heidi
- Johanna Spyri
Wild: From Lost to Found on the Pacific Crest Trail
- Cheryl Strayed
Walden
- Henry David Thoreau
The Hobbit
- J.R.R. Tolkein