When I was in college, I took a course on Greek and Roman Mythology. It was an elective that turned into one of my favorite courses of study. (The fact that I got to go all arts-craftsy and make collage probably helped.) This month's variation on a theme is centered on mythology in all of its forms.
All summaries are from Barnes and Noble.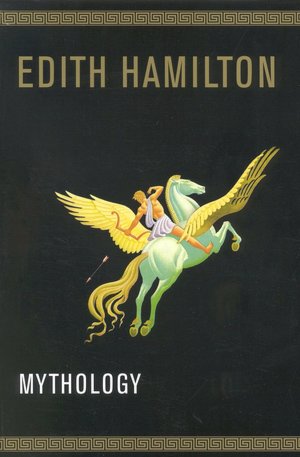 Mythology
Edith Hamilton
Since its original publication by Little, Brown & Company in 1942, this author's Mythology has sold millions of copies throughout the world & established itself as a perennial bestseller in its various available formats: hardcover, trade paperback, & mass market paperback. Mythology succeeds like no other book in bringing to life for the modern readeer the Greek, Roman & Norse myths & legends that are the keystone of Western culture - the stories of gods & heroes that have inspired human creativity from antiquity to the present. This new Back Bay trade paperback edition of Mythology replaces the Meridian edition formerly available from the Penguin Group. In August 1998 a new mass market paperback edition of Mythology published by Warner Books will replace the Mentor/Dutton Signet mass market edition formerly available from the Penguin Group.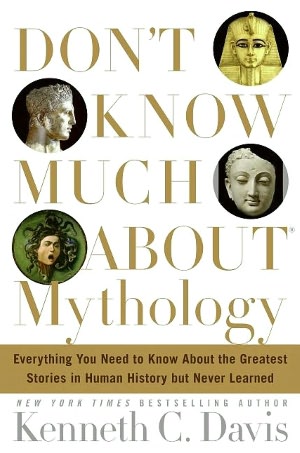 Don't Know Much About Mythology: Everything You Need to Know About the Greatest Stories in Human History but Never Learned
Kenneth C. Davis
Since the beginning of time, people have been insatiably curious. They've asked questions about where we come from, why the stars shine and the seasons change, and what constitutes evil. The imaginative answers crafted by our ancestors have served as religion, science, philosophy, and popular literature. In this latest installment of the
New York Times
bestselling Don't Know Much About® series, Kenneth C. Davis introduces and explains the great myths of the world using his engaging and delightfully irreverent question-and-answer style. He tackles the epic of Gilgamesh; Achilles and the Trojan War; Stonehenge and the Druids; Odin, Thor, and the entire Norse pantheon; Native American myths, and much more, including the dramatic life and times of the man who would be Buddha. From Mount Olympus to Machu Picchu, here is an insightful, lively look at the greatest stories ever told.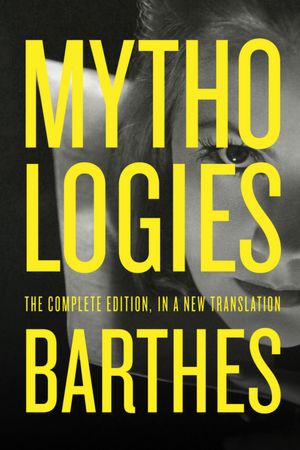 Mythologies
Roland Barthes
What is astrology? Fiction for the bourgeoisie. The Tour de France? An epic. The brain of Einstein? Knowledge reduced to a formula. Like iconic images of movie stars or the rhetoric of politicians, they are fabricated. Once isolated from the events that gave birth to them, these "mythologies" appear for what they are: the ideology of mass culture. When Roland Barthes's groundbreaking Mythologies first appeared in English in 1972, it was immediately recognized as one of the most significant works in French theory—yet nearly half of the essays from the original work were missing. This new edition of Mythologies is the first complete, authoritative English version of the French classic. It includes the brilliant "Astrology," never published in English before, as well as gorgeous photographs of 1950s France to help readers visualize the myths Barthes masterfully decrypts. Mythologies is a lesson in clairvoyance. In a new century where the virtual dominates social interactions and advertisement defines popular culture, it is more relevant than ever.
The distinguished literary critic and leading exponent of semiology, the science of signs and symbols, seeks to create a mythology of daily life.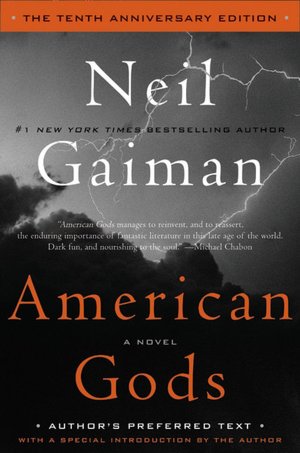 American Gods
Neil Gaiman
Locked behind bars for three years, Shadow did his time, quietly waiting for the magic day when he could return to Eagle Point, Indiana. A man no longer scared of what tomorrow might bring, all he wanted was to be with Laura, the wife he deeply loved, and start a new life. But just days before his release, Laura and Shadow's best friend are killed in an accident. With his life in pieces and nothing to keep him tethered, Shadow accepts a job from a beguiling stranger he meets on the way home, an enigmatic man who calls himself Mr. Wednesday. A trickster and rogue, Wednesday seems to know more about Shadow than Shadow does himself. Life as Wednesday's bodyguard, driver, and errand boy is far more interesting and dangerous than Shadow ever imagined—it is a job that takes him on a dark and strange road trip and introduces him to a host of eccentric characters whose fates are mysteriously intertwined with his own. Along the way Shadow will learn that the past never dies; that everyone, including his beloved Laura, harbors secrets; and that dreams, totems, legends, and myths are more real than we know. Ultimately, he will discover that beneath the placid surface of everyday life a storm is brewing—an epic war for the very soul of America—and that he is standing squarely in its path.
Richard Reynolds
The super hero has been the staple of the modern comic book since the late 1930s. The phenomenally successful movies "Superman" and "Batman" have made these two comic book super heroes as familiar worldwide as any characters ever created. Yet to relatively few aficionados are they known at first hand from their appearances in comic books. Super Heroes: A Modern Mythology explores the origins of the super hero by documenting how heroes emerged from the comic book genre and are defined both by its history and by audience expectations. To show some of the most influential and paradigmatic figures, this study focuses on the texts of three comic books in the genre--The X-Men, The Dark Knight Returns, and Watchman. It examines ways in which the comics mythologize both the role of the hero and the nature of consensus, authority, and moral choice. Blending academic scholarship with specialized knowledge of the comic book medium, Super Heroes: A Modern Mythology will have appeal for several audiences. Since most of the academic scholarship published on comic books has focused on history rather than on cultural analysis, this book will be of great value to scholars of popular culture.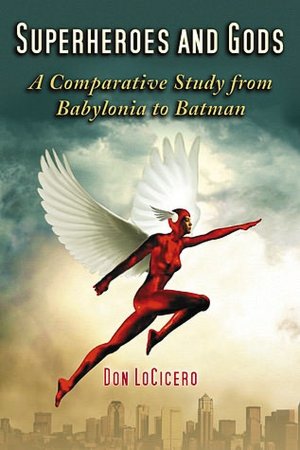 Superheros and Gods: A Comparative Study from Babylonia to Batman
Don LoCicero
The work provides a unique study of superheroes and gods in literature, popular culture, and ancient myth. The author selects a number of mythological figures (e.g., Babylonia's Gilgamesh and Enkidu), ancient gods (e.g., Greece's Eros and Tartarus), and modern superheroes (e.g., the United States' Superman and Captain Marvel) and identifies the often striking similarities between each unique category of characters. The author contends that the vast majority of mythological superheroes follow the same archetypal character patterns, regardless of each hero's unique time period or culture. Each of the first nine chapters examines the heroes and gods of a particular region or country, while the final chapter examines modern descendants of the hero prototype like Batman and Spiderman and several infamous anti-heroes (for example, Dracula and The Hulk).
Other Mythic Titles
Bulfinch's Mythology
- Thomas Bulfinch
Christian Mythology
- Allen McMains
The Clayfooted Superheros: Mythology Tales for the New Millennium
- Rose Williams
D'Aulaire's Book of Greek Myth
s - Edgar Parin D'Aulaire
Mythology
- Lady Hestia Evans
Mythology
- Neil Philip
The Prose Edda: Tales from Norse Mythology
- Snorri Sturluson
Rebuilding God: Towards a New Christian Mythology for a Post-Modern World
- Peggy Catron
Sith, Slayers, Stargate, & Cyborgs: Modern Mythology in the New Millennium
- John Perlich, ed.
Supergods: What Masked Vigilantes, Miraculous Mutants, and a Sun God from Smallville Can Teach Us About Being Human
- Grant Morrison