After attending the Computers in Libraries conference, where much information out marketing, outreach, and social media was shared - I am in a refreshed mood to attack the TBR list of books I have related to these topics. If you care to join me, here are some of the titles I've found.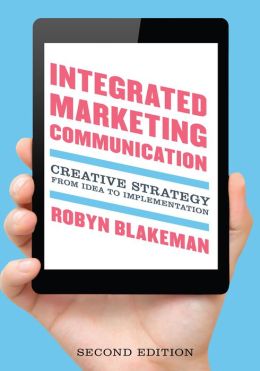 Integrated Marketing Communication: Creative Strategy from Idea to Implementation
Robyn Blakeman
Robyn Blakeman's Integrated Marketing Communication offers a classroom-tested, step-by-step approach that lays out creative processes and strategies for effective integrated marketing communication (IMC), as well as how traditional advertising and marketing principles are changing. Blakeman covers key areas from marketing plans, branding and positioning, and creative briefs to copywriting, design, and considerations for each major media format. She also looks at visual and verbal tactics, along with the use of business theory and practices-and how these affect the development of the creative message. IMC trends require students to become well-rounded professionals, understanding not only advertising but also marketing, public relations, sales promotion, and direct marketing. This user-friendly text walks students through these areas and helps them develop their skills in taking a creative idea and employing the correct message, placing it in the most appropriate media, and using the most effective communications approaches.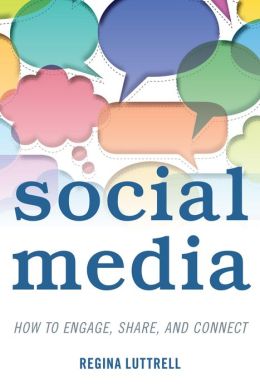 Social Media: How to Engage, Share, and Connect
Regina Luttrell
Social Media: How to Engage, Share, and Connect will help readers understand and successfully use social media tools through a thorough history of social media and pioneers of the field; chapters on specific subjects such as photo-sharing, video, networks, and crisis communication, among others; discussions on appropriate use of social media in public relations, where the profession stands today and where it is headed in the future; and real-world examples of successful social media campaigns. This book will become your go-to reference guide for all things social media-related as it applies to public relations and the everyday duties of PR professionals.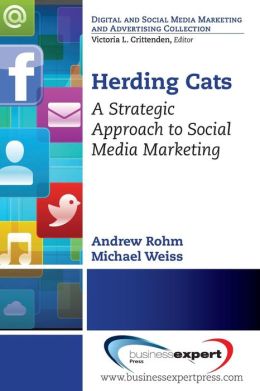 Andrew Rohm and Mark Weiss
One of the top marketing challenges that marketing managers and executives face today is to better understand social media and its promise as a marketing platform. The social media ecosystem,
including traditional platforms such as Facebook and Twitter and upstarts such as Instagram and Snapchat, have evolved significantly over the past 10 years; so much so that keeping pace with the latest social media platforms can seem like herding cats. Inside, the authors provide a timeless perspective on how to create, manage, and measure social media content to help you craft a more strategic approach to your social media efforts. They simplify the concept of branding and advertising (fueled by social media) so you can focus on fostering customer engagement; craft your organization's unique story; tell that story strategically via social media channels; organize, manage, monitor, and measure those efforts; identify key metrics and measure the performance through analytics; and understand the extent of change brought on by digital and social media related to how you engage your customers.
Marketing Concepts for Libraries and Information Services
Eileen Elliott de Saez
This best-selling textbook offers LIS students and information professionals a comprehensive foundation and structure for effective strategic marketing and demonstrates how to use this marketing to enable grow, develop and find new perspectives. The book introduces practitioners to a wide range of marketing concepts and techniques suitable for library and information services and shows how it is essential for a library to be truly market-oriented in order to ensure its survival and future prosperity. The third edition is fully updated to encompass recent developments including social media, marketing 3.0, interactive marketing, values-driven marketing marketing, holistic marketing and video marketing, with two new chapters on marketing environments and culture with references and lists of further reading.
Suzanne Walters and Kent Jackson
Branding provides a unique way for a library to distinguish itself: its identity, personality, and image. Drawing on five vividly unique case studies from libraries across the country, Breakthrough Branding: Positioning Your Library to Survive and Thrive shows how to mesh your library's brand deeply and seamlessly within your internal culture, to leverage and better position your brand for the audiences you serve, and develop and implement promotional strategies and tactics consistent with your objectives. Experienced marketers and branding consultants Suzanne Walters and Kent Jackson offer clear advice regarding the art and science of library branding, advocacy, ethical considerations, marketing management and evaluation throughout the book's three sections.
Face2Face: Using Facebook, Twitter, and Other Social Media to Create Great Customer Connections
David Lee King
Presenting a practical guide for any organization that aspires to create direct, deep, rewarding relationships with its patrons and prospects, social media expert David Lee King goes beyond Facebook and Twitter to demonstrate how a range of Web 2.0 tools and techniques can be used to start and sustain conversations and humanize the organization in the eyes of those it seeks to serve. Suggesting myriad ways to connect with customers using photos and video, communities and networks, and specific tools such as blogs and location services, King uses real-world examples to illustrate the dos and don'ts of using social media. The book covers topics including responding to criticism, listening to consumers, creating an approachable tone, and designing a human-centered site, as well as explaining all the critical components of any effective customer-engagement strategy.
Other Library Outreach Titles
The Librarian's Nitty-Gritty Guide to Social Media
- Laura Solomon
Marketing with Social Media: A LITA Guide
- Beth C. Thomsett-Scott
Marketing your Library: Tips and Tools that Work
- Carol Smallwood, et al.
Social Media for Creative Libraries
- Phil Bradley
Using Social Media in Libraries: Best Practices
- Charles Harmon and Michael Messina