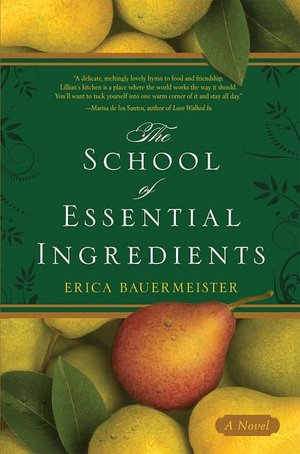 TITLE:
The School of Essential Ingredients
AUTHOR:
Erica Bauermeister
STARTED:
April 21, 2012
FINISHED:
April 22, 2012
PAGES:
256
GENRE:
Fiction
FIRST SENTENCE:
Lillian had been four years old when her father left them, and her mother, stunned, had slid into books like a seal into water.
SUMMARY: [From Barnes and Noble] A "heartbreakingly delicious" national bestseller about a chef, her students, and the evocative lessons that food teaches about life
Once a month, eight students gather in Lillian's restaurant for a cooking class. Among them is Claire, a young woman coming to terms with her new identity as a mother; Tom, a lawyer whose life has been overturned by loss; Antonia, an Italian kitchen designer adapting to life in America; and Carl and Helen, a long-married couple whose union contains surprises the rest of the class would never suspect...
The students have come to learn the art behind Lillian's soulful dishes, but it soon becomes clear that each seeks a recipe for something beyond the kitchen. And soon they are transformed by the aromas, flavors, and textures of what they create.
THOUGHTS:
When I started this book at the end of my last read-a-thon, I did not expect to finish it let alone to fall in love. I only encountered this book because it was misshevled in the kids section at the library. If not for that bit of serendipity, I may have never read what I consider to be the best book of 2012 (so far).
Each section of Bauermeister's novel covers the personal story of a member of a cooking class. Towards they end of the book, the stories start to weave and interconnect beautifully. Each story has its own tone, whether it be frustrating, triumphant, or heart-breaking (and, yes, I was in tears for two stories). The best part about these vignettes is that they feel real. The characters are fully formed, and we're being given insights into a part of their complete lives.
And the writing in this book, dear god, the writing is simply wonderful (particularly when food descriptions are on the page - do not read when hungry!). It's lyrical, well composed, and flows with richly developed emotion. You can tell when a writer trusts in their story, because they don't force this writing. This book just flows from one page to the next - as if it appeared, fully formed on the page without ever being drafted and edited. I love it when that happens. Bauermeister lets you fall into the story and its characters because her writing seems so effortless.
The School of Essential Ingredients
was the perfect book to end my read-a-thon. It contains a compelling story, realistic characters, and beautifully nuanced writing. If you only attempt to read one book this year, please let it be this one. Also, you may want snacks on hand as this book will make you want to eat buttery mashed potatoes.
RATING:
10/10 [Best. Book. Ever.]